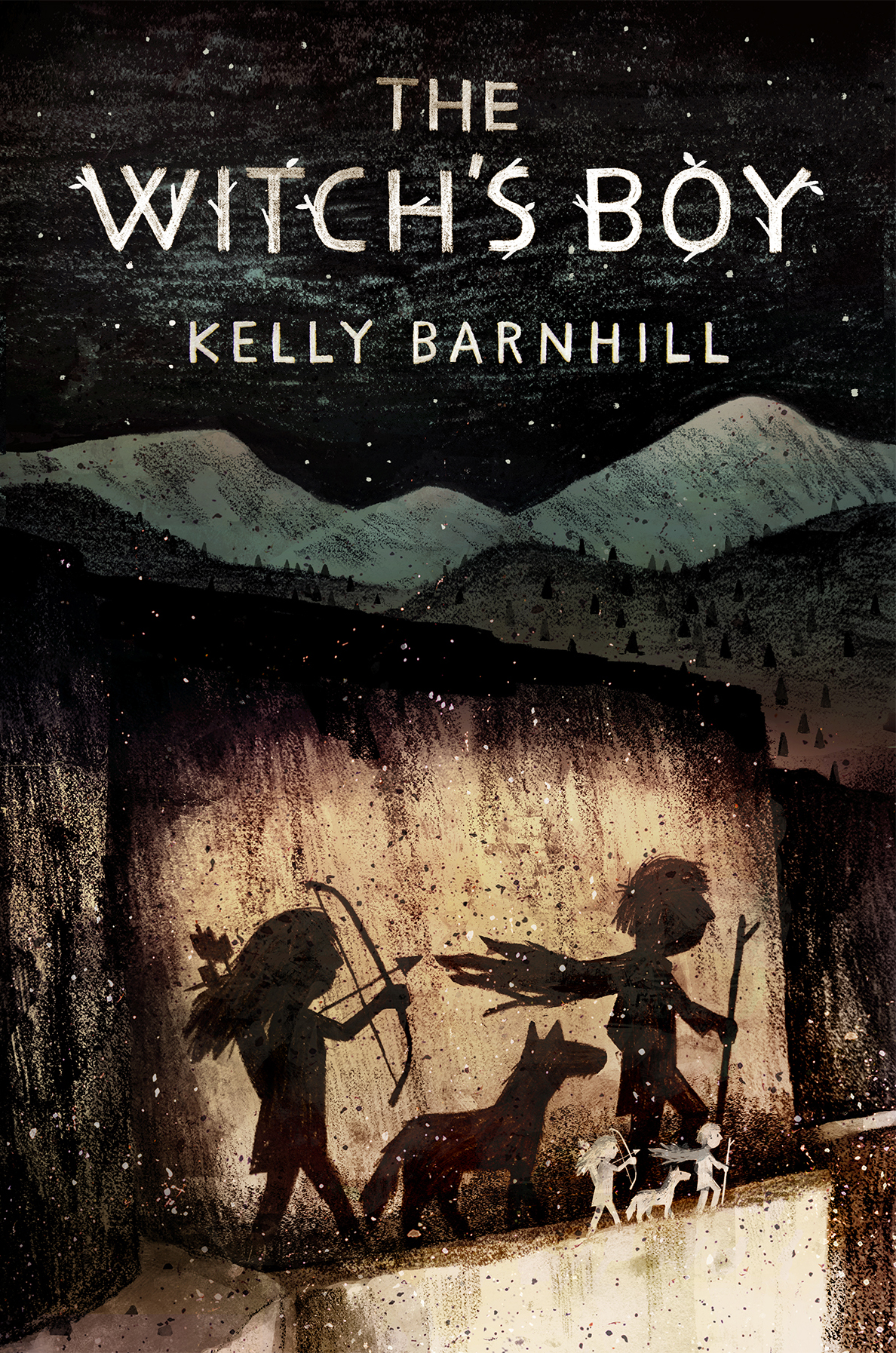 The Witch's Boy
Kelly Barnhill
Algonquin, 2014 372 pgs
Grades 5-8
Fantasy/Adventure
Ned, a boy who resides in the most distant village of a distant and isolated kingdom loses his twin brother in a tragic boating accident. His father was only able to save one twin and Ned got lucky.
The experience has left Ned tongue
-tied and unable to read.
It is whispered about in the village that "the wrong boy lived".
Meanwhile, Ned's mother is the kingdom's "witch woman" and protects and manages an ancient strain of magic hidden in the basement of their little hut. Deep in the enchanted forest that boarders Ned's village lives Aine, who resides in a small cottage with her father, the Bandit King. The Bandit King has magic of his own, contained in a necklace, which has made him crazy and greedy. He gathers all the wandering bandits together and forms and rag-tag army in search of riches and power. They attack Ned's hut trying to steal Ned's mother's magic. Mother is not home, so it is up to Ned to coral the magic and escape with it into the forest. There he befriends a wolf and Aine. The three companions encounter many dangerous and life-threatening situations while trying to stop the evil army. The Bandit King draws an alliance with the young and greedy king of the kingdom on the other side of the enchanted forest and the royal army joins forces with the bandits, set to destroy Ned's land in order to obtain Mom's magic. Unbeknownst to any of them, ancient stones, the source of all the magic, have been awakened. They also take part in the final showdown between the armies, along with Ned, Aine, and the wolf. The truth behind the death of Ned's twin is revealed, as well as the lengths his mother was willing to go to save her children. At last order is restored, the magic is returned to its proper place, government is re-evaluated, and Ned and Aine find peace.
The Witch's Boy has received amazing reviews this year, so it has been on my list to read. The book is definitely well written and original. It contains alternating narrators and parallel story lines which merge at the end. The setting is well conceived and plot is tight. For my taste the book was a bit too dark with not enough contrast, but this may be because much of the action takes place in the dark of the forest. It also felt a bit long and dense and it took me a long time to get through it. Themes include greed, war, government
corruption
, friendship, finding your inner-courage, and choosing
the right path even if the adults in your life are weak. The magic is ancient and wild and the stones behind it all are interesting characters in their own right. Ned is clearly a reluctant hero. He see his growth from an uncertain boy not capable to even carry on a conversation with a neighbor to a brave young man who attempts to stop a war. Aine is also fully developed and faces tough choices with courage and wisdom. My favorite character is the queen of Ned's land, who is wise and bold despite her advanced years. The cover of this book does it no justice. I thought it had to do with cave people in prehistoric
times by the looks of it and resisted picking it up. Kid's are very visual, perhaps making the book a hard sell. Dark, atmospheric fantasy is currently trending and
The Witch's Boy
certainly fills this bill. Both boys and girls who love dark magic and adventure will love this book. It is clearly a stand alone title, but I can see room for a sequel, should the first installment be popular with young people.