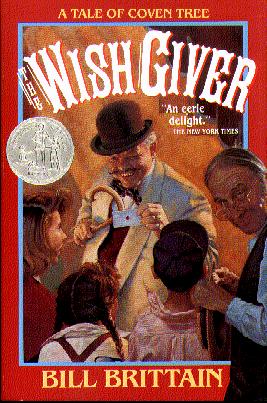 The Wish Giver
Bill Brittain
Harper & Row, 1983 181 pgs.
Grades 2-5
Fantasy
Some time in America's past in a small town in Maine, local general store owner, Stew Meat, wanders into a mysterious tent at the town fair. The strange proprietor of the tent is selling wishes for fifty cents. Three young people are anxious to get their wishes and Stew Meat purchases one on a whim as well. In three sections we track the adventures of the young people and the results of their wishes. Polly, the youngest of the three, has a hard time making and keeping friends. Her mouth always gets her in trouble and she is too honest for her own good. Polly makes a wish to be invited to the house of the most popular girl in town. Unfortunately, her wish results in a croaking sound escaping her throat whenever she says anything nasty to someone else. Polly does eventually get her invitation, but the results are not what she anticipated. Fifteen-year-old Rowena wishes that her crush, a young traveling salesman, would stay put in the town so would always be with her. He stays put all right, but in a way not predicted or welcomed by Rowena. Poor Adam lives on a farm with no water. Tired of hauling water, he wishes for "water all over the farm" and boy does the wish ever deliver! The three stories slightly overlap and then come together as all three young people rush to Stew Meat's store at the same time to beg him for help. Stew Meat takes care of the situation and peace is once again restored to Coven Tree with all the wishers a bit wiser for their troubles.
This is a book that has been around a long time. It is often seen on school reading lists and bibliographies of recommended reading for children. Because of its relatively easy reading level and excellent content and writing style, it is a natural choice for book discussion for lower elementary children, which is why I re-read it for probably the fifth time. After five readings, you would think that the book would get boring to me or would seem dated. Everytime I read this book I re-discover how awesome it is. Books for this age level tend to have very little substance. Many are entries in a series or depend on silly or gross bits to carry them through and interest children. Brittain writes a fully developed book that leaves readers with something to think about and propel them to the next step in their reading. The setting is also fully conceived and is an intricate contribution to the mood and plot of the story. I love how the book begins and ends in the first person with Stew Meat's point of view, yet the body of the book is comprised of three overlapping stories told from the third person. Brittain subtly teaches children moral lessons, without getting preachy, and allows for the reader to make the conclusions themselves. Because of the powerful writing and topics for discussion built nicely into the novel, it is a natural choice for classroom use and book discussion, which is why it is still in print after thirty years. Beyond this, its a fun book to read. The margins are wide, the print is large, and generous pictures are sprinkled through out the text, so it is not intimidating to readers. Brittian leaves us with the message to be careful what we wish for and that happiness might be right in front of our noses the whole time. At the risk of making a wish that ends badly, I wish that this book stays around for another thirty years!