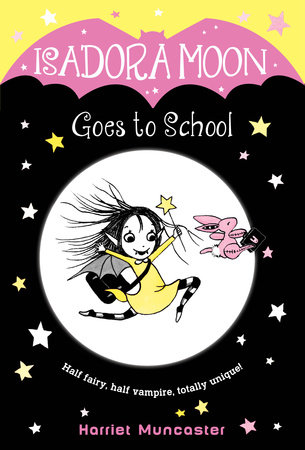 Isadora Moon: Goes to School
Harriet Muncaster
Random House, 2016 117 pages
Grades 2-4
Fantasy/Graphic-Fiction Hybrid
Isadora Moon series vol. 1
Isadora Moon has an unconventional family. Her father is a vampire and her mother is a fairy. They keep different sleep schedules and have very different eating habits and interests. Isadora is a bit of both her parents and often feels disloyal to the other for preferring certain things. When the time comes to begin school, the family is not sure where to send their little darling. She first tries Fairy School, but her magic goes a bit wonky, she prefers black to pink, and she is not a natural at forest lore. After this disastrous day Isadora is convinced that she is more vampire and attends Vampire School. This also does not go as planned. She does not care for "red food", which is all they serve, struggles with proper grooming, and accidentally releases all of the class bats. Not fully vampire or fairy, where does Isadora fit in? How can she please both parents? Will she ever feel truly at home and be able to attend formal schooling? The answer comes as a surprise, but is a satisfying solution for all, and will lead the reader to further installments in the series as Isadora goes camping and to the ballet (released this month). Isadora has a Birthday is set for a July, 2018 release.

First published in Britain, this series has happily crossed the pond and is available to an American audience. Isadora is a likable character who kids will both identify with, despite her magical lineage, and want as a friend. She is impulsive and flawed, yet eager to please, tries her best, and has a contagiously spunky personality. Bi-racial and bi-cultural kids will especially relate to Isadora's life, as will anyone with an unconventional family. The message is that everyone has something that makes them unique and that is what makes the world an interesting place. I like how Muncaster chose to solve the problem of which parent to please and which school was best for Isadora, the solution which will lead the readers to further adventures. The whimsical illustrations are plentiful, well executed, and help to support the mood of the story and the plot, while also adding a humorous element to the tale. Colors used are black, white, and pink. The pink will appeal to some readers, but will perhaps scare boy readers off worse than a vampire father. Less clueless than Junie B. (and with better grammar), Isadora Moon will draw the same audience.
Chapter book readers will be attracted to the visual cover and format of the book, the vampire/fairy conceit, and the sparkly protagonist.