Everyone knows that boys love comics. Publishers are finally figuring out that girls do too! I remember bouncing along in my mother's minivan reading old Superman comics from a box that she picked up for my brother at a yard sale. I loved them more than he did. Superhero comics have traditionally been aimed at boys. This summer our reading club theme was "Every Hero has a Story" and all the kids in my library became crazy for comics. Unfortunately, there was very little to put in the hands of young women. This is changing as the industry is publishing more and more titles directed at this demographic. With a Newbery honor awarded to Cece Bell for El Deafo and the best-selling success of Raina Telgemeier, we
are presently experiencing a
Renaissance
in graphic novels for girls.Ther
e are many new and exciting series and stand-alone graphic novels specifically aimed at young women (ages 8-12) recently published. What follows are some of my favorite.
Sunny Side Up
Jennifer L. Holm and Matthew Holm
Scholastic, 2015
The success
of Raina Telgemeier has spurred many semi-autobiographical graphic novels for girls, which we can't keep on the shelf. The power team behind Babymouse (a series I have been handing comic-loving girls to read for years) has created a very powerful work. A young girl must go to Florida to stay with her grandfather in his retirement community, while her parents help her teen brother deal with his addiction in the summer of 1976. I personally related to this book and was deeply moved by it. I was the same age of the character and it felt like the story of my childhood, which is why I felt so strongly about the book. To see if it resounds with young people of today I asked two of my super readers if they could relate to the story. Both loved it and one didn't realize it was set in the past. The themes of addiction, guilt, relating to different generations, and loneliness are universal. I particularly love how the main character discovers comics, which get her through a tough time, and spurs Wonder Woman because she runs around in her underwear. Amen!
Roller Girl
Victoria Jamieson
Dial, 2015
Another semi-autobiographical novel, Jamieson traces a young girl's journey to success in roller derby. Atrid and her best friend begin to drift apart the summer before seventh grade. Astrid discovers Roller Derby and attends a summer camp to learn the skills involved. It is harder than she thought it would be and almost gives up several times, but perseveres. By the end Astrid has gained confidence, skills, and new friends, This is an empowering story encouraging girls to persevere and find the courage to seek a place for themselves beyond the traditional dance class. Astrid is a feisty character who marches to the beat of her own drummer, hopefully encouraging other young women to do the same.
Princeless: the Pirate Princess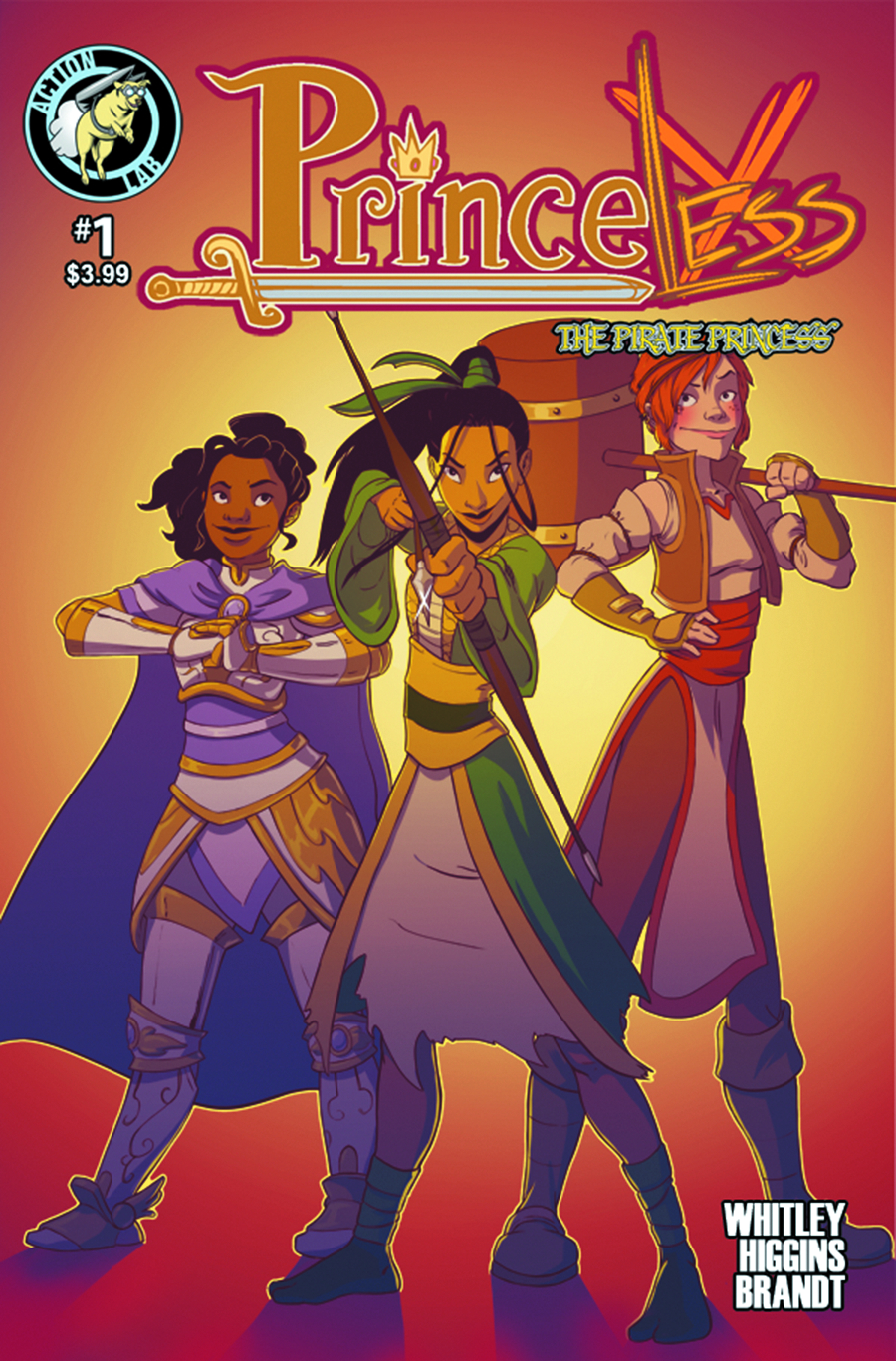 Whitley, Higgins, and Brandt
Action Lab, 2015
Pirate princess, Raven, is rescued from a tower in which she was trapped by her jealous
brothers by Adrienne, an authentic princess, and her companion Bedelia. No helpless maiden is Raven. She has been trained by her father the pirate king and is an expert with a sword. It is her quest to steal a ship and get revenge on her brothers and is not afraid to betray Adrienne to achieve her goal. The action never stops in this adventure, which is filled with fighting, narrow escapes, and plot twists. The warriors travel by flying dragon, which is very cool. Best of all, they wear practical, yet stylish clothing. No underwear here. These warrior women can fight their own battles, are smart as whips, tough as nails, yet preserve their feminine side and remain women. What young girl wouldn't yearn to travel around with this crew?
Lumberjanes: Beware the Kitten Holy
Stevenson, Ellis, Watters, & Allen
Boom!, 2015
I was fortunate enough to hear the team behind the Lumberjanes speak at NYC Comic Con this month and they are as cool in person as their comic is to read. The story follows five young camper friends as they navigate through the Lumberjanes handbook, attempting to earn badges. Many adventures and misadventures ensue including trouble with their councilor, a near-death experience over a waterfall, discovery of a secret tunnel, a run-in with a group of Yetis, and an encounter with the strange group of neighboring camping boys. The action and humor never stop. Below the surface, the real messages are of friendship, girl power,and acceptance. After reading this book you will long for the experience of summer camp. More installments are expected in the near future.