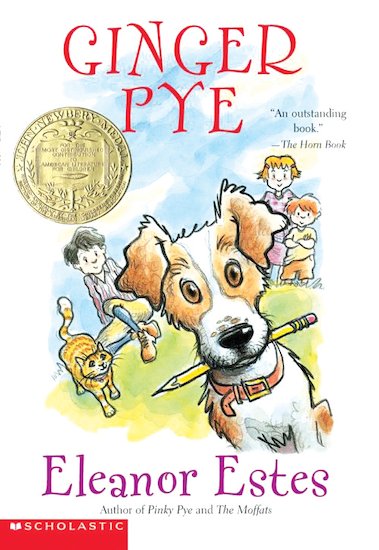 Ginger Pye
Eleanor Estes
Harcourt, 1951 306 pg
Grades 3-6
Mystery/Animal
1952 Newbery Winner!
Jerry Pye wants a dog with all of his heart. He and his sister Rachel, Along with his three-year-old Uncle Benny, dust pews at the church to earn $1 in order to buy the dog of his dreams. The children name the dog Ginger and are amazed at his intelligence and ability to perform tricks. Ginger is even able to track Jerry down at school and present to him the pencil he dropped en-route. The children have a glorious summer and fall together with their new pup. Tragedy strikes on Thanksgiving Day when Ginger disappears. The children spend the winter and spring knocking on doors and exploring remote areas of their town searching for their lost friend. Was Ginger stolen? Was the mysterious man in the mustard hat who Jerry and Rachel saw skulking around responsible? All is revealed as Jerry is finally reunited with his dog as the best birthday present possible.
Take a trip back to simpler times with Eleanor Estes to her town of Cranberry, Connecticut, setting of the Pye books as well as the popular Moffat books. Cranberry is a town where everyone knows each other and dogs wander around free to have adventures off-leash. Children go home to eat their lunches on school days, served by stay at home moms. Kids leave the house in the morning to roam free, not expected back until dinner time. The simpler times also include a certain amount of sexism and no people of color in the whole town of Cranberry, but that is a product of the times. Ginger Pye is indeed a sweet, simple story. We see the day to day life of the Pyes and experience little vignettes of their escapades, all while moving forward with the main plot-line of the acquisition and disappearance of Ginger. The characters are likable, especially that of Uncle Benny, who steals the show. The story is interspersed with illustrations by the author making the book approachable and less daunting to young people. The vocabulary is more advanced than books currently being published for children, making this a great choice for young readers with a high reading level. It is an excellent selection for young kids who read above their level and need something challenging, yet not too sophisticated or mature. Ginger Pye is a warm and cozy story with enough plot to be relevant to today's youth. Over sixty years later it is still a worth-while selection for young people; a true mark of a Newbery winner.