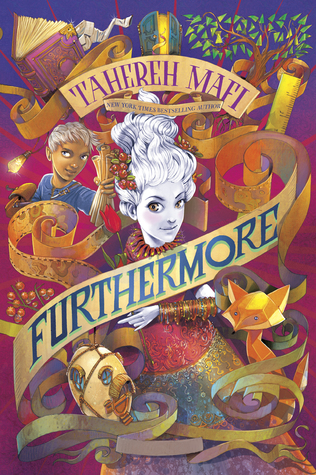 Furthermore
Tahereh Mafi
Dutton, 2016, 416 pgs.
Grades 4-7
Fantasy
Alice is coming of age as a completely colorless and seemingly unmagical girl in a land where the main commodities are color and magic. Alice's beloved father has disappeared three years before and she is stuck in a small house with multiple younger siblings and a checked-out mother, who appears to not love her. To make matters worse Alice no longer goes to school, thanks to an unfortunate incident with her arch enemy Oliver, and there is no one to guide her in perfecting her talent for her Surrender, which is the gateway to adulthood. Oliver, who had formally been missing for a year, tries to befriend Alice and convince her to help him in his quest, which she naturally resists. After spectacularly failing her surrender Alice finally agrees to journey with Oliver to the unpredictable land of Furthermore where magic is wild and abundant, the inhabitants are tricky and often treacherous, and the main commodity is time. What follows is a series of adventures through very unique and unstable towns, where Alice and Oliver often find themselves in grave danger. The inhabitants of Furthermore welcome outsiders for only one very ominous reason, which is shockingly revealed. Meanwhile, the two enemies learn to trust each other and a friendship develops as they meet more and more interesting folks and find themselves in increasingly threatening situations. Both Alice and Oliver are hiding their secret magical powers, which they both eventually divulge, as they continue on Oliver's quest, which reveals itself to be finding Alice's long-lost father.
Furthermore reminded me a lot of The Lost Track of Time, which I read and posted about recently. Furthermore is longer and meant for an older audience, but contains many of the same messages and seems to be influenced by The Phantom Tollbooth and A Wrinkle in Time. I love the concept of two neighboring magical lands, one controlled and the other wild, and the idea of color being so plentiful and cherished. The story is wholly original, yet somehow feels like an old fashioned fantasy. At 416 pages I felt that the book went on for far too long and I got a bit road-weary as I slugged along. Even though its plot-intensive, reluctant readers will probably give up. Smart, creative kids will fall into the land of Furthermore and want to stay forever, hoping the quest never ends. Alice is a very likable character and kid's will relate to her lack of confidence and feelings of being unworthy. As the story progresses, Alice learns to find value in her own uniqueness and embrace that which makes her special. At points in the story Oliver seems sneaky and unlikable, but Mafi shows his motivations and vulnerabilities and we begin to care about his character as well. Themes include the power of friendship and working in a team, the value of time, facing problems head-on, the importance of honesty and loyalty, and to find your inner-strength and never give up.The story ends a bit too abruptly and cleanly, which is not unusual for books for this age level. At first I was relieved, thinking that at least it was a stand-alone and I don't have to invest in two more books. But then the last page clearly opens the door to the next adventure, leaving the publisher ample opportunity to turn Furthermore into a series if there is interest.