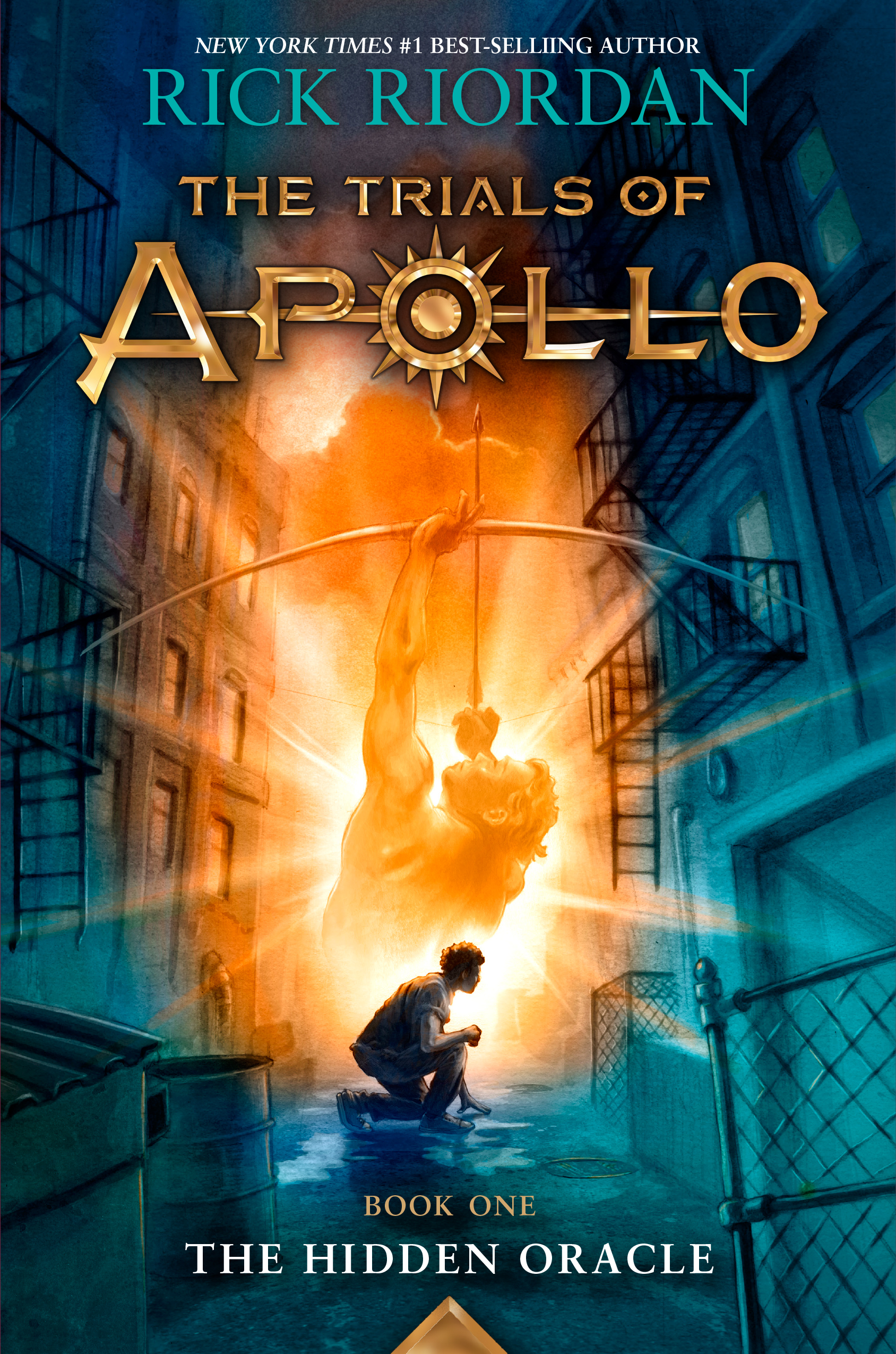 The Trials of Apollo: The Hidden Oracle
Rick Riordan
Disney/Hyperion, 2016 385 pgs.
Grades 5-8
Fantasy/Mytholgy
The Trials of Apollo series #1
Riordan goes back to the familiar territory of Camp Half Blood in this new companion series offering. Apollo displeases his father, Zeus and is thrown into a New York City alley as punishment in the form of a teenage boy. He meets a young girl, Meg, who turns out to be a demi-god. Apollo must serve Meg in order achieve favor with Zeus and reclaim his status as a god. Meg and Apollo first connect with Percy Jackson, who is busy preparing for his SATs and graduation. He directs the new friends to Camp Half Blood, where they eventually arrive, after some dangerous situations. Once at the camp Apollo meets some of his children, as well as the other young demi-gods. Apollo and Meg learn of the evil "Beast", who is trying to capture all of the oracles. There is one oracle still at large: the "Grove of Dondona", which is under control of the hippy-goddess Rhea. Apollo and Meg race to save the grove and attempt to rescue Apollo's kidnapped children before the Beast can destroy it all. Only, Meg is harboring a troubled secret and a hidden connection to the Beast. Is she really a friend? And how can Apollo save both his children and the world without his powers? Find out in this series opener sure to appeal to Percy Jackson fans.
Riordan knows how to appeal to his readership. This new series will delight his fans and give them some fresh new characters to dive into. Percy makes appearances throughout the story, but this is Apollo's show. Although very unlikable, we see in his first-person account his struggles adjusting to mortality and his growing empathy and caring for the new acquaintances in his life, including his once ignored off-spring. Meg is an interesting character and offers some surprising secrets and plot twists as the story progresses. The book contains the modernized-versions of traditional ancient gods that we have come to expect from Riordan and the plot has action and adventure at every turn. Readers will keep turning pages and will eagerly await the next installment, The Dark Prophecy, due for release in May, 2017. The Percy Jackson series felt like it went as far as it could for this age group, so Riordan has introduced this new set of characters to keep his fans happy and the stories fresh. Knowledge of the Percy Jackson books is helpful for understanding the plot, as it does build off of past events and characters. Fast-paced, humorous, and clever, Riordan never fails to disappoint.