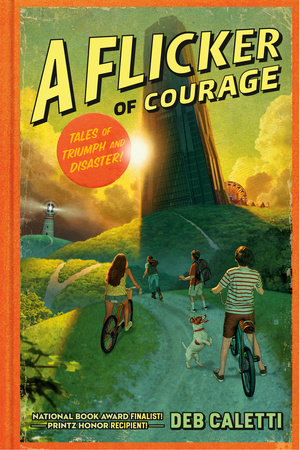 A Flicker of Courage
Deb Caletti
Putnam, 2020 243 pages
Grades 3-6
Fantasy/Adventure
Henry lives a lonely and isolated life. He finds great pleasure in watching the rambunctious family next door where super-star classmate Apollo resides. One day Apollo is outside sobbing. His brother has been turned into a lizard by evil ruler Vlad Luxor. Trying to help, yet not knowing what to do, Henry takes Apollo and lizard Rocco to his grandfather's lighthouse home. Along the way they meet up with classmates Jo and Pirate Girl who also want to help. At the lighthouse Grandfather and his friend the librarian tell the children that they are actually this generation's spell-breakers and it is up to them to find Vlad Luxor and break the spell. The young adventurers travel to the ominous palatial estate of Vlad, intending to follow Grandfather's advice of hiding Rocco in plain sight. The scheme does not go as planned and the kids must rely on their wits and instinct to save the day, all while forming true friendships and establishing themselves as this generation's team of speller breakers.
Caletti is best known for her award winning teen books. Here she tries her hand at middle grade at what appears to be the start of a series. The story is set in an alternative world at an undisclosed time, making it feel as if it really could happen and giving the story a fairytale/timeless vibe. Certainly quirky, this is not your typical adventure story. Readers who enjoy the books by Lemony Snickett and Pseudonymous Bosch
will feel right at home and jump into this unusual tale. Caletti adds subtle humor and absurdities that will appeal to readers, all while encouraging them to turn pages. Containing both male and female characters in the team ensures that both genders will crack into the story without hesitation. Vintage black and white photos are included to supplement the text, adding interest and creating a product that feels like Miss. Peregrine-light. The cover has a nostalgic feel that will draw in fans of Stranger Things and it looks as if it will be a science fiction story. In reality, our villain Vlad Luxor claims to not "believe in science" and magic abounds in this strange world. Reader's hearts will ache for main character Henry and it is with relief when he finds his tribe and finally begins to make social connections. There is a romantic repartee between Grandfather and the librarian that I found a little unnecessary, but it will probably go over the head of the intended audience. Give to creative smart kids who enjoy books off the beaten path.